In My Beauty Bag: Foundations and Concealers
Continuing with the series of my top must-have beauty products du jour, today's focus is on the face; more specifically the foundation. Finding the right foundation products is essential in creating that flawless polished look. I have seriously oily skin that at times will behave and mimic a combination skin type. Depending on the season, my face can start out really dry then end the day super oily. I also have really sensitive skin and if I wear the wrong type of makeup I will have serious breakouts.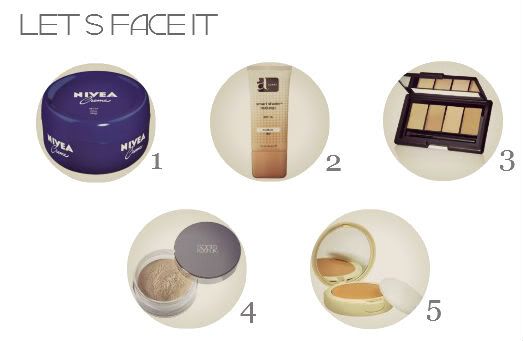 top 5 beauty skin care products
1.
Nivea Creme
:
Though by the end of the day I can end up with the oiliest skin ever, starting off in the morning my face needs a really rich moisturizer. If I don't moisturize prior to putting any type of foundation or tinted moisturizer on, my skin tends to develop dry patches. Nivea it best creme I've come across that not only gives the skin the moisture that it needs, but also is not extremely heavy or will clog the pores.
2.
Almay Smartshade Makeup
:
Finding the right foundation that matches my skin tone, but also works great for my oily acne prone skin, has been a serious struggle. Almay's Smart Shade is a wondrous product. I have to admit it took me a while to get the correct application method down. At first I would put way too much on. I applied it as I had with my foundation sticks. FAIL. Starting off with small dabbles and adding more as needed leaves a very barely there natural glow. I adore it.
3.
e.l.f. concealer
:
I have to say that E.L.F. is by far my favorite discount makeup brand outside of NYX. I have several concealers from different brands in rotation right now. I find that the E.L.F. full coverage in medium to be the one that I can use in literally any place where needed. In a crunch it is the 1st one I will grab and feel assured that it will give me the coverage that I need.
4.
Sonia Kashuk Barely There Pressed Powder
:
I believe I was introduced to this powder via one of the many youtubers that I follow. This powder is truly translucent and works beautifully to set concealers and powered foundations if need be.
5.
IMAN Prefect Response Oil Blotting Powder
:
This product has been a lifesaver. I tend to use it when I don't feel like redoing my makeup but need to control the oiliness that can show on my face at the end of the day. Depending on the weather or the season, my face will go the entire day and look wonderful or by the end of the day I look like I have greased up with an entire tub of vaseline. I came acorss this powder by happenstance and am soo thankful that I did.
part I: In My Beauty Bag: Skincare